Scenes from #NHLCombine: No. 1-ranked Euro. goalie Filip Gustavsson going through Functional Movement Screen testing pic.twitter.com/XWK6ENr2Iq

— NHL Public Relations (@PR_NHL) June 3, 2016
Earlier this week, more than 100 of hockey's best prospects took part in the NHL Combine. Similar to the NFL, the NHL Combine features a battery of tests and assessments designed to give teams adequate information ahead of the NHL Draft on June 24th and 25th in Buffalo.
The Functional Movement Screen was formally added to the Combine in 2013.
"[Montreal Canadiens scouting director] Trevor Timmins suggested the NHL consider FMS testing to see if we could incorporate it into our Combine," Director of NHL Scouting Dan Marr said. "It doesn't necessarily pinpoint an injury; rather, it can indicate the potential or need for further examination and that's just as, if not more, important."
The Canadiens had been using the FMS as a part of their team combine for several years.
"A majority of NHL teams utilize FMS in some form and the NFL has been performing this screening as part of the medical process for their combine for a number of years," Marr said. "This is something you ideally want to do prior to the medical examinations so that the FMS results can be screened and provided to the doctors before the player is examined."
"If there's a range imbalance or if one side of the body is stronger or weaker than the other, this test will help determine that," Marr said. "A majority of NHL teams utilize FMS in some form, and the NFL has been performing this screening as part of the medical process for their combine for a number of years.
"A couple of guys, including myself, struggled with balancing on one side while extending the other side," Alex Peters of the OHL's Plymouth Whalers told NHL.com. "A lot of the movements were a bit different and some, if you're not very flexible, could be challenging."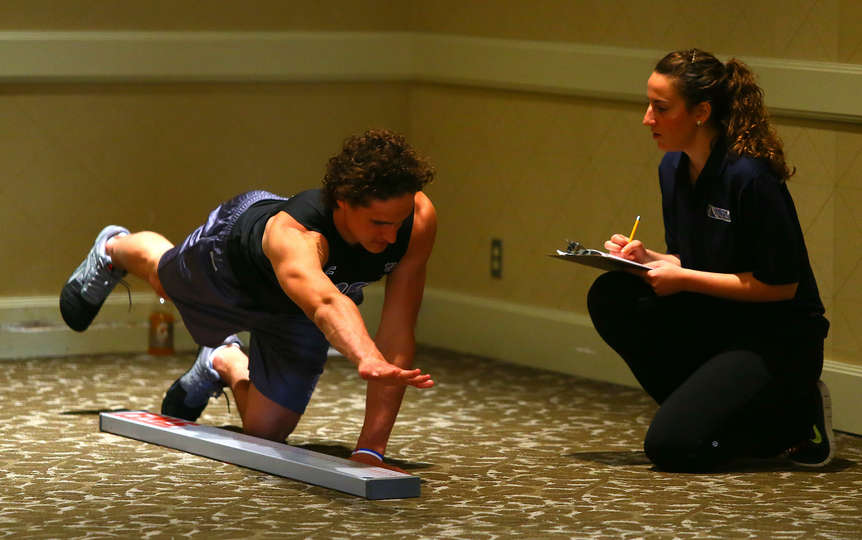 "There were trainers watching to see if you were off-balance or need more core strength. I think it's a positive test to take," said Anthony DeAngelo, a defenseman in the Tampa Bay Lightning organization.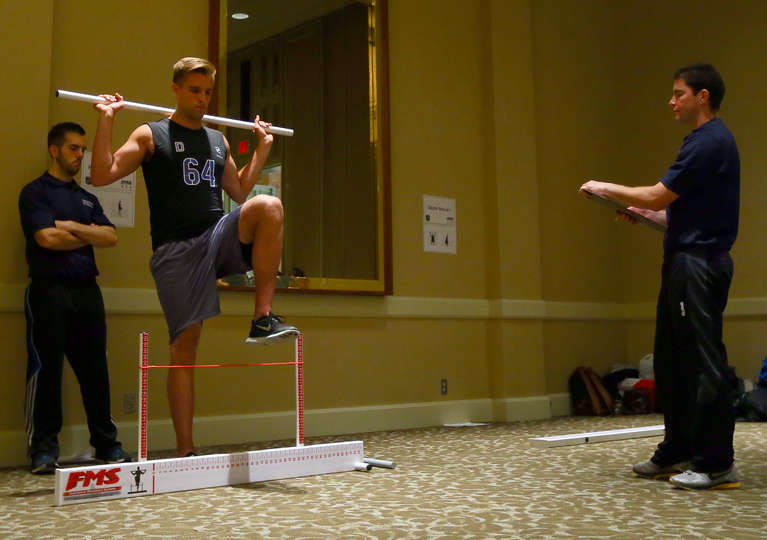 (ABOVE: 2015 NHL Rookie of the Year and two-time NHL All-Star Aaron Ekblad performs the hurdle step at the 2014 NHL Combine)
The FMS has been used in hockey by strength coaches for years, both within NHL organizations and independently in elite training programs. In his book, Advances in Functional Training, Mike Boyle noted that two of the most common issues among hockey players that were identified by the FMS were poor rotary stability and dysfunctional pattern of hip flexion (evidenced by the Hurdle Step)., which led his team to look at psoas and iliacus function.
"Our players operate in constant hip flexion and are inhibited or inefficient in standing," said Boyle.
Poor results in the hurdle step test led Boyle and his team to look at the psoas and iliacus function while trying to clean up the pattern by adding hip-flexion activiation exercises to the warm-up and hip-flexion strength exercises as the end of workouts.
Interestingly, Dr. Peter Mackay of the TPI Advisory Board found that in addition to rotational athletes having tight hip flexors, the imbalance was often evident in assymetrical standing posture.
Sean Skahan Strength and Conditioning coach for Boston University's ice and field hockey programs has been using the FMS with hockey players in 2006. Before joining the Terriers in 2015, Skahan spent 13 years as the S&C coach for the Anaheim Ducks. Skahan is a massive proponent of the FMS and, in addition to the hurdle step, he often identifies issues with shoulder mobility in hockey players. In 2011 while working with the Ducks, Skahan posted some thoughts on his blog regarding observations and potential opportunities for improvement with shoulder mobility among hockey players:
At the beginning of every season, we will do a Functional Movement Screen (FMS) with each member of our team. It has become a part of the whole overall testing and assessment process. The process of using the F.M.S. has evolved as I have learned new strategies and techniques from season to season to help us incorporate corrective exercises into our program. During the first few seasons that we implemented the FMS, we simply screened our team and then implemented our in-season program. Now, we are taking a much more individualized corrective exercise approach as I felt that we needed to incorporate some corrective exercises to help the players with F.M.S. issues and prevent players from having problems.

We have seen some trends in the scoring the FMS over the past 5 years. The hurdle step pattern has been one that has shown some asymmetries.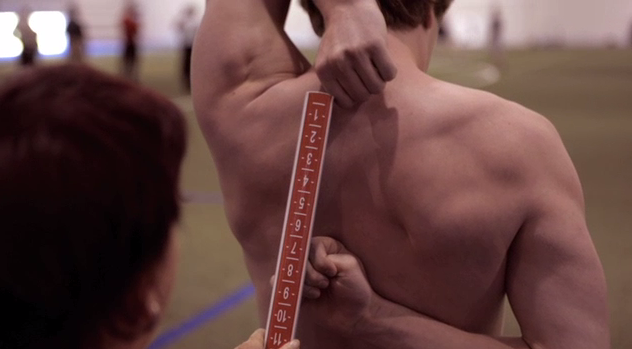 (ABOVE: The Shoulder Mobility Screen being performed during the Montreal Canadiens' team combine)
Another part of the F.M.S. where we will see some asymmetries is the Shoulder Mobility Screen. Every season, we will have some shoulder mobility asymmetries with some of our players. Many times, these players may be new players acquired by our team through trades or through free agency. With these players, it is not uncommon to hear them describe having a previous injury which may have been a separated shoulder, an AC sprain, or a dislocation/partial dislocation earlier in their career. They may have undergone surgery to correct one of the previously mentioned injuries or they may have rehabbed it without surgery. Either way, the injury has caused them to lose some mobility and/or stability in the shoulder joint and in the thoracic spine. Therefore, we may have some differences in right versus left side in our shoulder mobility screen.
Hockey is violent sport. Injuries are a part of the game and even the toughest athletes in the world will be required to miss games. That said, overuse injuries that are especially common in rotational sports can potentially be addressed early by evaluating movement patterns and identifying asymmetries. We look forward to continuing our work with the NHL Combine and exploring how the FMS can help organizations protect their players and achieve peak performance.