Featured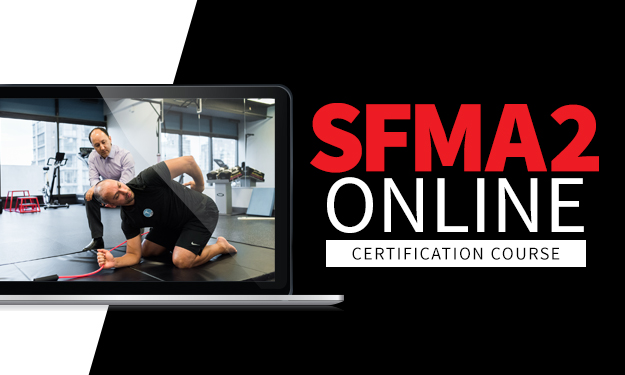 Description
The SFMA Level 2 Online Course is a self-paced course. The course can be completed from the comfort of your own space, allowing you access as your schedule allows.
The SFMA Level 2 Online Course provides a systematic approach to efficiently use your SFMA findings to guide interventions - addressing both mobility and stability/motor control dysfunctions. It picks up where the Level 1 left off with a focus our 3 R's approach - Reset, Reinforce, and Retraining - to restore proper movement. The primary focus of Level 2 is to complete the local biomechanical examination process, but also to empower participants with confidence to successfully integrate motor control techniques into their clinical practice.
Key Course Take-aways
Master our 3 R's approach - understand when and where you should Reset, Reinforce or Retrain.
Mobility restriction, no problem. Learn how to distinguish between a joint restriction and a tissue restriction.
Understand the research behind training the brain to restore proper movement with motor control techniques.
Integrate motor control techniques into your clinical practice with examples of corrective progressions for each SFMA pattern.
Take your clinical practice to the next level with this comprehensive strategy to address movement dysfunction from diagnosis to proper treatment.
See what other Professionals are saying about the SFMA Level 2 online course!
Excellent learning format and a genuine sharing of knowledge to help our clients.
- M. Lias, US on 7/15/2023
The demonstrations of the techniques for the local biomechanical exam (both joint play and tissue appraisal) are phenomenal. Also, the recorded course is extremely valuable in revisiting the mirage of methods for motor learning in all the different patterns.
- S. Kressel, Israel on 10/7/2022
I found all of it helpful, but especially appreciated the explanation of principles in the beginning and rationale for the assessment and treatment approaches in a very methodical way.
- D. Stepanek, US on 10/2/2022
The break downs of the 4x4 matrix but also how to apply feedback and the logic behind that so I can carry that over into other aspects of treating patients.
- A. Brower, US on 8/22/2022
What's Included
Once your purchase is complete, you will have one year of access to the SFMA Level 2 Online course. You will receive email confirmation of purchase with directions on how to access this online course.
This course includes access to over 9 hours of video content. The 12 Chapters included in this course are as follows:
Chapter 1: Welcome
Chapter 2: Introduction to Mobility Concepts
Chapter 3: Motor Learning
Chapter 4: SFMA Level 2 Virtual Course
Chapter 5: Cervical Local Biomechanical Examination
Chapter 6: Spine Local Biomechanical Examination
Chapter 7: Shoulder Region Local Biomechanical Examination
Chapter 8: Hip Local Biomechanical Examination
Chapter 9: Ankle Local Biomechanical Examination
Chapter 10: Knee Local Biomechanical Examination
Chapter 11: Arms Down Deep Squat (ADDS) Breakout
Chapter 12: Course Conclusion
Once you have viewed and studied the online course material, you will be prepared to take the SFMA Level 2 Certification Exam (included in the course and available online). Upon passing the exam, you will earn one complimentary year of
FMS Certified Membership
.
Addtional Information